Featuring the Syracuse University Marching Band and the University Pep Band: the Sour Sitrus Society, the SU Athletic Bands provide music, excitement, and entertainment at SU football, Men's and Women's basketball, volleyball, and a variety of other events on campus and around the country.
You don't have to be a music major to join the band! Any major is welcome. Over 85 different majors are represented in the band, and includes students from Syracuse University, Onondaga Community College, LeMoyne College, SUNY-Oswego, and SUNY-ESF. We are "New York's College Band!"
Never marched before? Not a problem, we can teach you! We would love to have you with us heading "Down the Field!"
For more information get on our mailing list at Join the Band!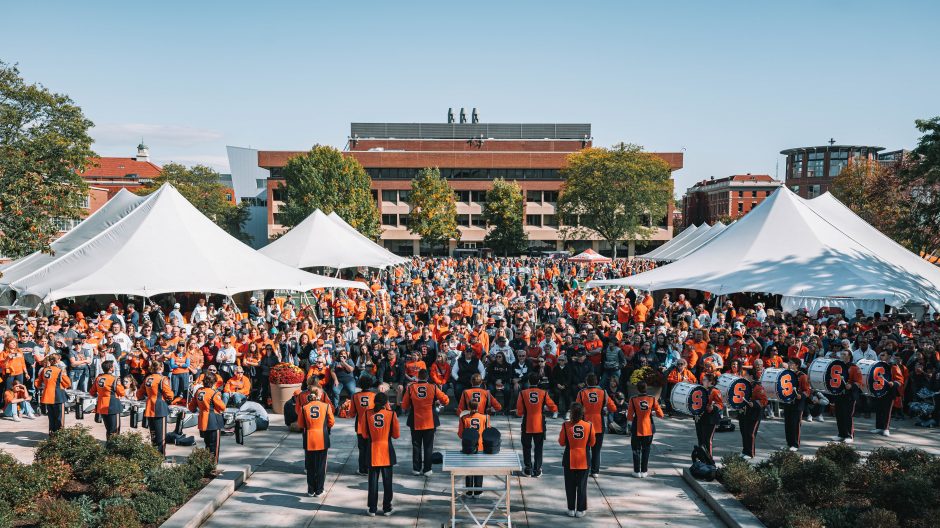 Syracuse University Marching Band
The 170-member SUMB continues the 123 year tradition of bringing music and entertainment to football game days, convocations, and other events around the campus, the state, and the country. Performing the traditional pregame show and a new halftime show at nearly every game, the Pride of the Orange enjoys an active and exciting performance schedule each season.
There is no audition required to join the SUMB; you just need to have playing or spinning experience in high school. (Auditions are for part placement only.)
Interested in joining? There are lots of ways to get started. Click "Join the Band" on this page and/or email , or call (315) 443-2194. After that, watch for a newsletter coming to you in early June with registration information for the coming season.
Pride of the Orange Band Camp 2023
2023 SUMB SCHEDULE
Tentative as of 05/03/23
Monday, August 14 – Leadership Camp Begins
Wednesday, August 16 – New Members, All Drumline, All Color Guard begin Camp
Friday, August 18 – Wind Vets return to campus
Thursday, August 24 – performances begin!
---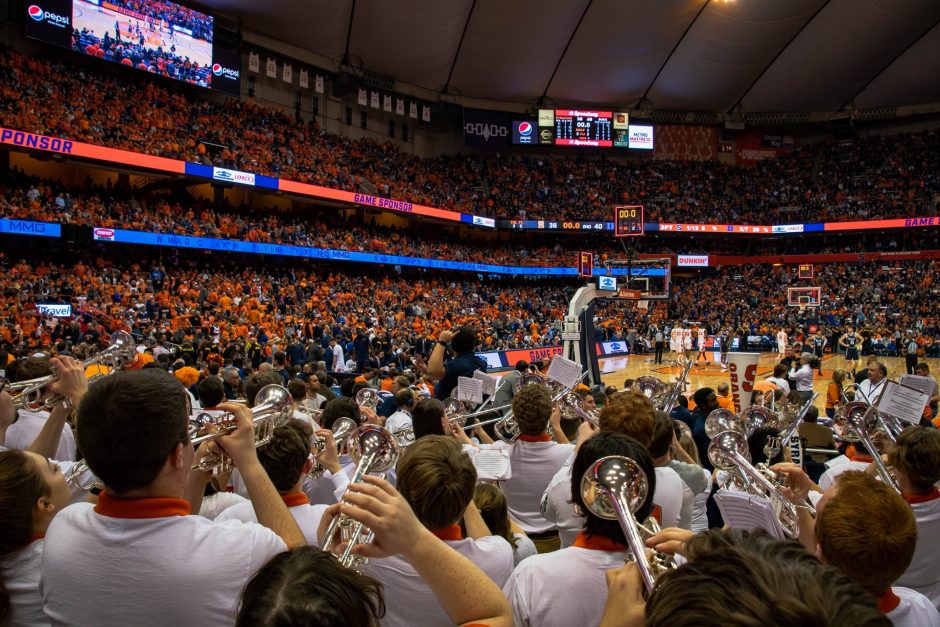 The University Pep Band:
The Sour Sitrus Society
The Sour Sitrus Society provides musical entertainment and supports a positively- spirited atmosphere at men's and women's home basketball games. In addition to performing at SU basketball and volleyball games, Sitrus often participates in many other events both on and off campus.
With a playlist of over 75 tunes, we perform an exciting repertoire ranging from the big band era to today!
Our normal rehearsals will last one hour on Monday nights, 8:30-9:30 PM in the Fall Semester, 7:00-8:00 PM for Spring Semester in the JMA Wireless Dome.
To register, locate ENI 520-Section 2 on your registration page. There is both a 1 credit a 0 credit option for the course.
Questions can be directed to Dr. Timothy Diem or Administrative Specialist Francesca Moore in the Band Office (315-443-2194) and/or at .