Featuring the Syracuse University Marching Band and the Sour Sitrus Society, the SU Athletic Bands provide music, excitement, and entertainment at SU football, Men's and Women's basketball, and a variety of other events on campus and around the country.
You don't have to be a music major to join the band! Any major is welcome. Over 85 different majors are represented in the band, including students from Syracuse University, Onondaga Community College, LeMoyne College, and SUNY-ESF.
Never marched before? Not a problem, we can teach you! We would love to have you with us heading "Down the Field!"
For more information get on our mailing list at Join the Band!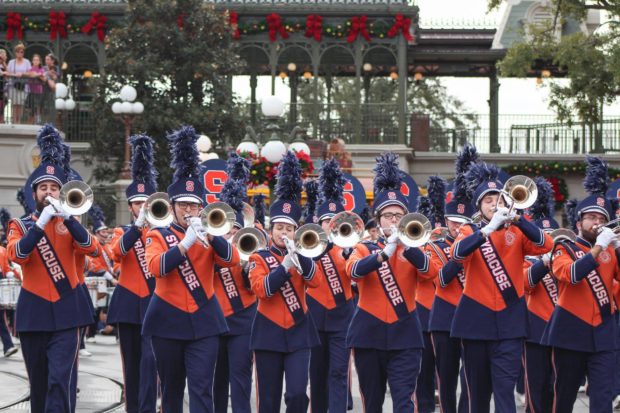 Syracuse University Marching Band
The SUMB is a fantastic group of people from all over campus in every school and college, as well as from Onondaga Community College, LeMoyne College, and SUNY-ESF. Joining us is a wonderful way to make the transition from high school to college, or to enrich your college career if you're already a student here.
There is no audition required to join the SUMB; you just need to have playing or spinning experience in high school. (Auditions are for part placement only.)
Interested in joining? There are lots of ways to get started. Click "Join the Band" on this page, email , look for a newsletter coming to you in early June with registration information, or call (315) 443-2194 to let us know and we will start the process of getting you signed up.
Full (tentative as 4/30/21) schedule for 2021 [Word doc]
---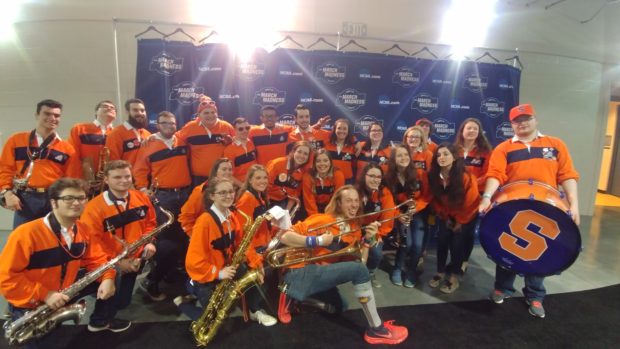 University Pep Band: The Sour Sitrus Society
The Sour Sitrus Society is the Syracuse University pep band that provides musical entertainment and supports a positively- spirited atmosphere at men's and women's home basketball games. In addition to performing at SU basketball and volleyball games, Sitrus often participates in many other events both on and off campus.
We perform an exciting repertoire ranging music in a variety of styles from big band to today!
To register, locate ENI 520-Section 2 (40120) on your registration page.
If you are at max credits and in need of the zero credit option please contact Francesca Moore in the Band Office (315-443-2194), .
Our first meeting is tentatively slated for September 13 in the Carrier Dome in the evening (exact time TBA). Our normal rehearsals will last one hour on Monday nights between 8 and 9:30 PM (based on times available with the SUMB and Carrier Dome) and are expected to begin on Monday, September 27th.