Welcome to Syracuse University Bands!
The 2021 SU Marching Band Orange Peel newsletter will be made available on Monday, June 14, 2021".  This newsletter contains all the information that you need to know about band camp.
We offer a wide variety of music-making experiences at every level designed for the entire student body. Whether you're earning a degree in music or any other field, continue your musical career with us in one or more of our Concert or Athletic Bands.
Explore this site to learn more about how you can join us and make your experience at Syracuse University even better!
Why Join the Marching Band?
Syracuse University Marching Band Members Perform with CBDNA Intercollegiate Marching Band.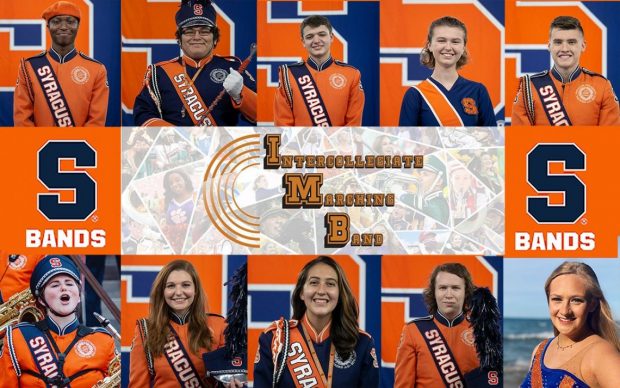 Ten members of the Syracuse University Marching Band (SUMB) will be performing in the College Band Directors National Association (CBDNA) Intercollegiate Marching Band (IMB). They will join nearly 1,500 nominated performers from 200 bands in 45 states and Puerto Rico, all working together to produce a virtual college marching band show.
This unique project will combine college marching bands from different confer­ences, regions and styles in a single performance. The IMB will perform "End of Time" by Beyonce in a video that will premiere online on the IMB YouTube channel and at the stadium during halftime of the College Football Playoff National Championship Game Jan. 11. Read full article.
Student Spotlight
Strike up the Band! Read more about the marching band.
Meet Meet Erin Beaudoin '22, mechanical engineering major and band member!