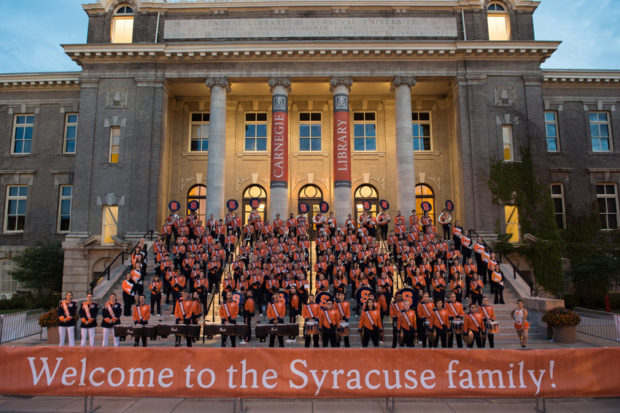 Congratulations to all newly matriculated SU students!  You've made a great choice to attend Syracuse University and now you can make another choice that will make your time here even better: join the Pride of the Orange, the Syracuse University Marching Band! The SUMB is a fantastic group of people from all over campus in every school and college.  Joining us is a wonderful way to make the transition from high school to college, or to enrich your college career if you're already a student here. There is 
no audition required
 to join the SUMB; you just need to have playing or spinning experience in high school.  (Auditions are for part placement only.) Interested in joining?  There are lots of ways to get started. Click "
Join the Band
" on this page, email
, look for a postcard coming to you in early June with registration information, or call (315) 443-2194 to let us know and we will start the process of getting you signed up.
---
We have a preseason Band Camp and will arrange for early move-in to your dorm.
Pride of the Orange Band Camp 2023
2023 SUMB SCHEDULE
Tentative as of 05/03/23
Monday, August 14 – Leadership Camp Begins
Wednesday, August 16 – New Members, All Drumline, All Color Guard begin Camp
Friday, August 18 – Wind Vets return to campus
Thursday, August 24 – performances begin!