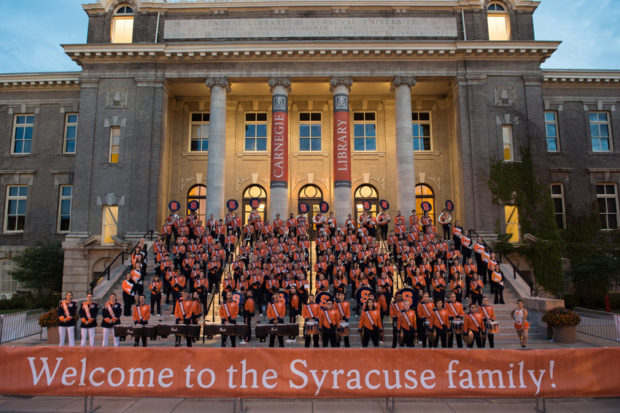 Congratulations to all newly matriculated SU students!  You've made a great choice to attend Syracuse University and now you can make another choice that will make your time here even better: join the Pride of the Orange, the Syracuse University Marching Band!
The SUMB is a fantastic group of people from all over campus in every school and college.  Joining us is a wonderful way to make the transition from high school to college, or to enrich your college career if you're already a student here.
There is no audition required to join the SUMB; you just need to have playing or spinning experience in high school.  (Auditions are for part placement only.)
Interested in joining?  There are lots of ways to get started. Click "Join A Band" on this page, email , look for a postcard coming to you in early June with registration information, or call (315) 443-2194 to let us know and we will start the process of getting you signed up.
---
We have a preseason Band Camp and will arrange for early move-in to your dorm.  Here is the general schedule overview for Band Camp 2018:
Pride of the Orange Band Camp 2018
Monday, August 13: Staff and Drum Majors report to Band Camp
Tuesday, August 14:  All LEADERS report to the Dome.  Leadership Camp begins
Wednesday, August 15: Rookie/Vet Drumline, Entire Color Guard report to Band Camp
Friday, August 17: Wind/Brass Rookies (new members) report to Band Camp
Saturday, August 18: Wind Brass Veterans report to Band Camp
Band Camp will go until Thursday night, August 23, where we will perform in public for the first time.